Netflix Account Cookies January 2022 | Update Daily | Working 100%
Netflix Account Cookies January 2022
difficult, not everyone can afford to subscribe, but there are a few ways to watch Netflix for free. Sharing Netflix accounts with friends or family Netflix's basic plan allows you to watch a show or movie at a time, but standard and premium plans allow you to watch more on multiple devices. With the standard plan, you can watch up to two things at once, and the premium plan allows you to play up to four shows or movies at the same time. The Netflix standard plan doesn't support HD streaming, so if you know someone with a Netflix subscription, there's a good chance they have the standard or premium plan. If they trust you enough to give you the password, you can log in and watch anything you want without interfering with their eyes. How to share your Netflix account Netflix allows you to create up to five separate profiles, each with its own lists and recommendations. This allows you to share your account without your friends or family confusing your recommendations with shows you don't care about.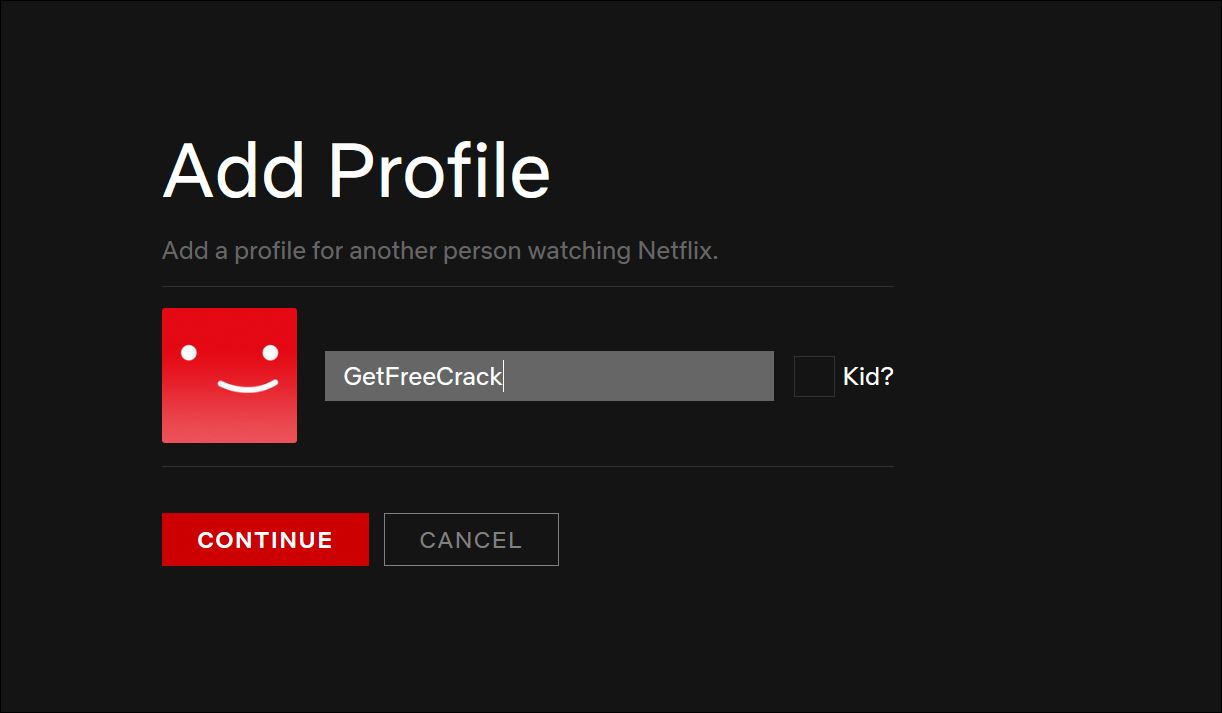 Here's how to set up a separate Netflix profile: Browse to Netflix.com. Select your user icon in the upper right corner. Select Manage profiles. Select Add a profile. Enter a name for the new profile and select CONTINUE. Select DONE. Important: You cannot assign a different password for each profile. Log in to new profiles using the same email and password you use. Only share your Netflix account with family members and friends you trust. As an account holder, you are responsible for the actions taken by anyone who allows the use of your account. How to Get More Free Netflix Trials If you have the patience and don't care to go for long stretches without Netflix, you can actually get more free trials. This is not a guaranteed method and there is no way to hurry, but it is completely legitimate.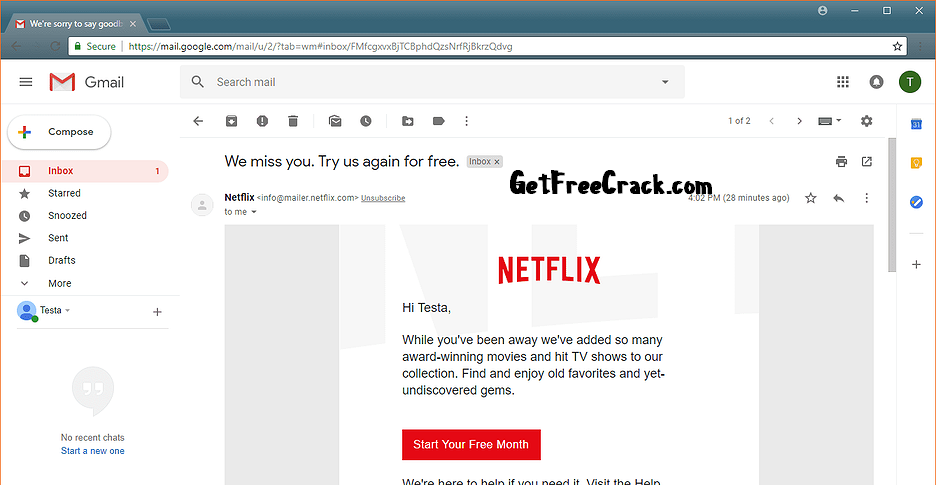 When you sign up for a free trial on Netflix but cancel before the trial ends, Netflix will eventually arrive to try to secure your business. It will normally take at least a few months for Netflix to send this email and it could be significantly longer. If you receive such an email from Netflix, all you have to do is select Start the free trial period it offers. This will take you to a page on the Netflix site where you can renew your membership for free. How to sign up for Netflix Free Trials Under normal circumstances, you can sign up for one free Netflix trial. This is how Netflix intends to operate the free trial system, but you may sign up for more free trials if you use different billing methods. You can even get a free trial of Netflix without a credit card, but having several credit cards ready to go helps a lot.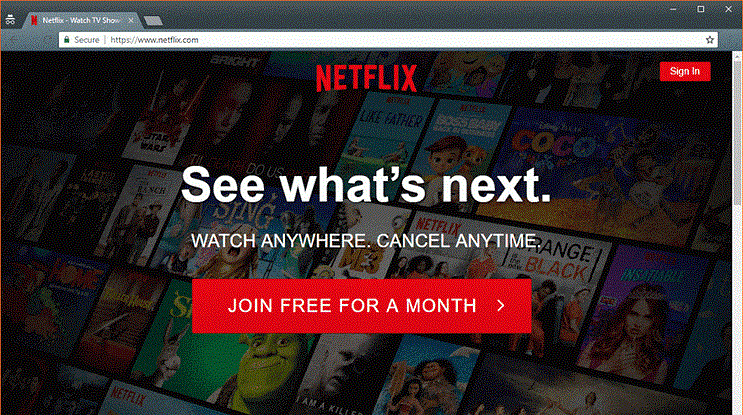 To sign up for a free Netflix trial, you need a credit card, debit card, PayPal account, or a Netflix gift code. You can also use a gift card or a gift card if it is issued by a credit card provider, such as Visa. Here's how to sign up for a free Netflix trial: Browse to Netflix.com. Select YOU ARE FREE FOR A MONTH. Select SEE PLANS. Select the plan, then select CONTINUE. Enter an email address and password. Note: This must be an email address you've never used with Netflix. Select the payment method. Enter your billing name and information, then select START MEMBERSHIP. Each time you want to sign up for a new process, you must repeat this process with a different method of email and billing. If you have access to multiple credit cards, you can use them. If not, you can pick up a Visa gift card, put some money on it and use it. To reduce the number of cards you need to go through to continue signing up for more free trials, you can set up a PayPal account, connect it to your credit or debit card, and use it as a payment method. the payment. Since Netflix doesn't see your credit card number, this allows you to use the same card multiple times. Check out our guide to free email services if you're not sure where to get fresh email addresses. Don't forget to cancel free trials If you decide to create a new Netflix account each time you want to benefit from the free trial, it's important to remember to cancel before the trial period ends. The billing method will be charged if you do not cancel in time.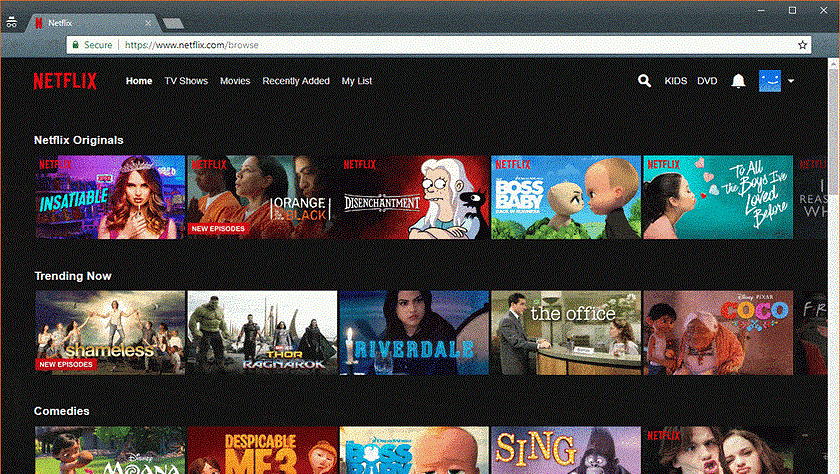 Here's how you can cancel the free trial for Netflix without being charged: Navigate to Netflix.com and log in. Select the user icon in the upper right corner of the screen. Select Account. Select Cancel membership. Select Finish Cancel. Important: If you cancel the process before the process ends, you will not be charged. In most cases, however, you will be able to use your account until the end of the free trial period. How to Get a Free Netflix Perk from Your Phone or Cable Company Some companies, including mobile providers and cable companies, offer promotions that include a free Netflix account. This isn't absolutely free, because you need to buy something to get it, but it's a valid way to get Netflix without paying for it directly. If you are in the market for a new phone or cable provider anyway, you might want to check to see if this is a good deal. And if you're already a customer of a company that offers Netflix for free, there's no downside to taking advantage of the offer. For more information, contact your phone or cable company and ask if they offer plans that offer free access to services such as Netflix, Hulu, or HBO Go. Hot to get Netflix for free with T-Mobile T-Mobile discards a Netflix account at no extra cost, but the transaction is not available to all customers. If you choose a plan that doesn't require a credit check or prepaid plan, the free Netflix offer is off the table.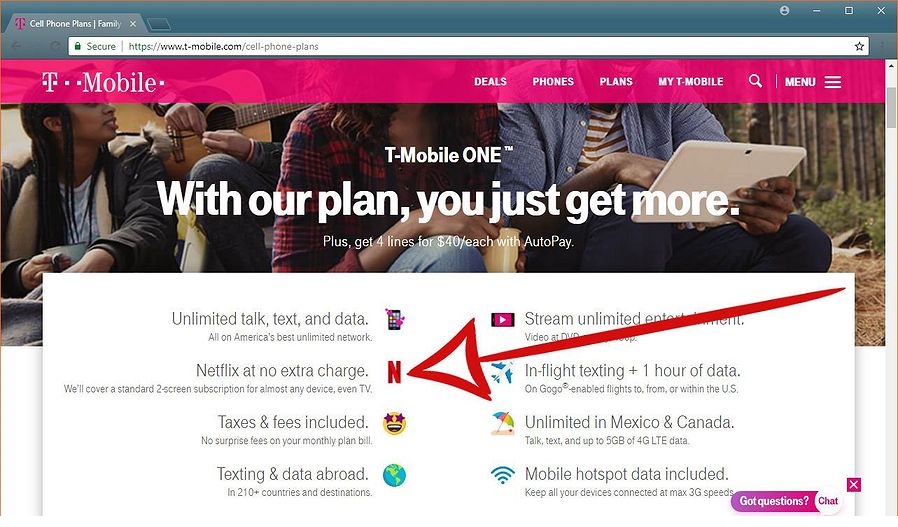 re. Wait for a text message from T-Mobile and follow the instructions. Important: T-Mobile may change the terms of the offers at any time. See the Netflix page on the T-Mobile website for more information. Hot to get Netflix for free with Verizon Verizon also offers free Netflix, but it's not for cellular customers. The only way to take advantage of this offer is to sign up for Verizon's FIOS TV and it's not available with all plans.
Here's how to get Netflix for free from Verizon: Sign up for FIOS TV. Make sure you choose a triple play package that includes television, telephone, and internet. Keep your account in good condition for about 65 days. You will receive an email from Verizon when you become eligible for Netflix for free. Once you're eligible, sign in to your Verizon account and follow the instructions. Important: Verizon may change the terms of this offer from time to time. See the Verizon Frequently Asked Questions about Netflix with FIOS for more information.
Join this telegram group https://t.me/joinchat/ml4hMBQBkctlNDVk
Netflix Cookies August 2021 Update Daily
https://up-to-down.net/198613/NetflixCookiesAugust2021
Buy Netflix Premium Private Account